Past Events
June 6th, 2014 - Clausen Youth Program Washougal Sixth Grade outdoor school
The sixth graders from both Jemtegaard and Canyon Creek continue to impress me year after year, they've been energetic, curious and quick to learn.
June 12th, 2013 - Clausen Youth Program Washougal Sixth Grade outdoor school
Back to Beacon Rock for outdoor school, the students only get to go once in sixth grade, I just keep coming back!
June 1st, 2012 - Clausen Youth Program Washougal Sixth Grade outdoor school
Another Great year with the outdoor's school, these kids can be interested and eager to learn! What simpler way to bring together art and ecology than to teach with plants, paper and pencils. It provides a fun way to teach rural and urban youth about the environment they inhabit.
August 12th-14th, 2011 - The New American Landscape, Group Show
In celebration of the 25 year anniversary of the Columbia River Gorge Scenic Act
Kahnaway Art and Ecology will be exhibiting work by artists that explores the idea of our changing landscape. The act of protecting and preserving land lays a fertile ground for comparison and contemplation of the transformation of our perspective.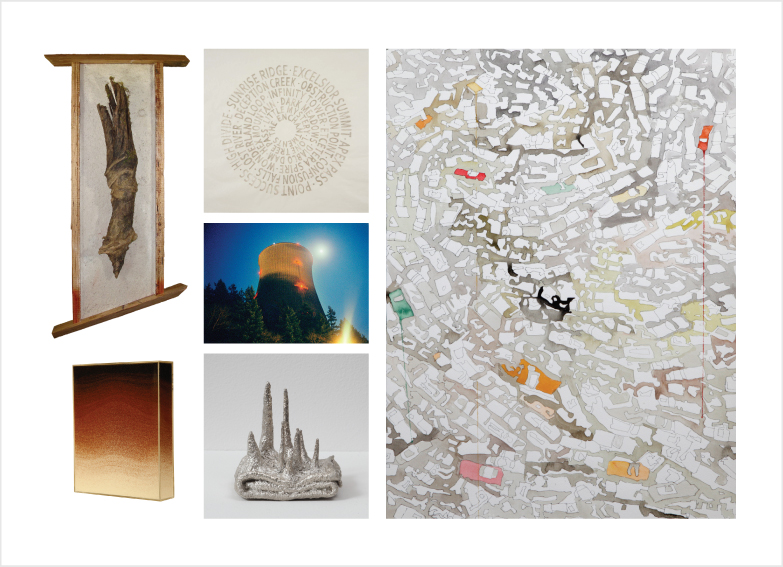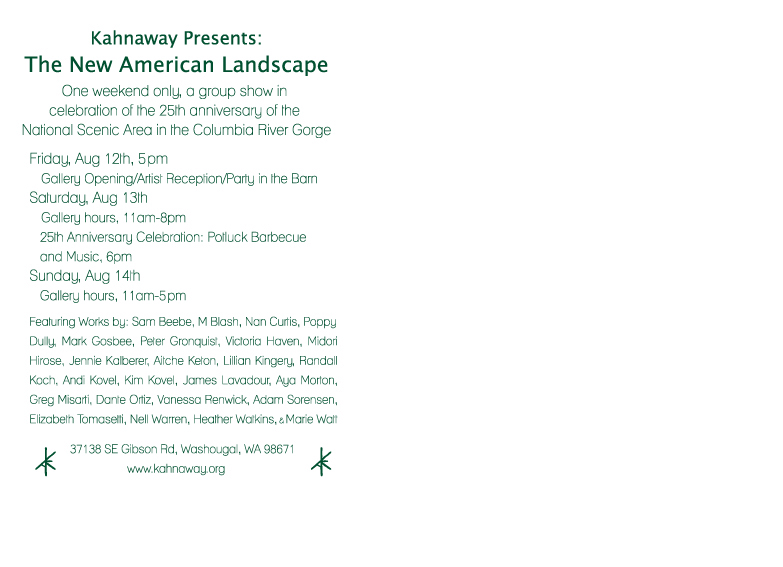 August 12th, 2011 - New American Landscape Opening Night, 5pm
August 13th, 2011 - 25th Anniversary Celebration Potluck/Bonfire, 6pm. Please come celebrate the group show and the anniversary of the Scenic Act. Come and relax at Kahnaway. Please bring a dish to share and drinks to enjoy. All are welcome. Please RSVP.
August 13th, 2011 - Barn Gallery Open Saturday, 11am-9pm.
August 14th, 2011 - Barn Gallery Open Sunday, 11am-5pm.
June 26th, 2011 - Open House, 12-4pm
Please join us at Kahnaway for an open house. Come out and explore the Kahnaway Property and learn about our classes and programs. We look forward to showing you around the property, answering any questions you may have, and listening to all of your ideas. Hike the property, wander around the barn, and enjoy yourself at Kahnaway.
All are welcome.
June 26th, 2011 Off-Press Printmaking for kids (ages 5-10) 12-4pm
We are partnering with Washington DNR as part of their Natural Areas Appreciation Week (May 6th- May 15th). On Sunday, June 26th, during open house Kahnaway and DNR will be hosting a children's program (ages 5-10) that will facilitate young people's understanding of the natural world through the art of printmaking. Carlo Abruzzese, Natural Areas Manager for the Pacific Cascade Region, will lead a nature walk and plant identfication tour. The kids will then have an opportunity to carefully choose natural objects with which to make prints from. Supplies and a book press will be available to make collograph prints with.
June 16th and 17th, 2011 - Kids Activity with Friends of the Gorge
Kahnaway Rolls into their first day hosting the art table at Washougal sixth graders outdoor's school.
Clausen Youth Program at Beacon Rock, 2011 - Art Project: the World in a 12" Square, Discovering "Place" Rarely do we take the time to really observe our surroundings. So much is happening in the ecosystems right under our feet. When we take the time to observe, we begin to understand why a sense of "place", of being in nature is so important to our understanding and appreciation of natural habitats. The object of this project is to allow the students to really look at a 12"x12" square area of nature. The students have time to observe area, draw the area (either realistically or using their imaginations to imagine what scenes may be taking place). Students can write narratives about their squares, name them, and think about all of the living parts and how they interact with each other. The students can share their drawings and narratives with the group.
30 minute project:
5 minute introduction
15 minutes to draw/write
10 minutes to share

Materials:
-Notebooks (each student can use the notebook as something firm to draw and write on and then tear off their sheet for the next group to use the notebook.
-Pencils/Pens/Colored Pencils
June 26th, 2011 - Open House, 12-4pm
Please join us at Kahnaway for an open house. Come out and explore the Kahnaway Property and learn about our classes and programs. We look forward to showing you around the property, answering any questions you may have, and listening to all of your ideas. Hike the property, wander around the barn, and enjoy yourself at Kahnaway.
All are welcome.
June 4th, 2011- John Laursen Lecture "Wild Beauty", 7pm.
Thanks again to everyone who took the time away from their gardens or Saturday sun bathing to come out and listen to John Laursen's fascinating "behind the photo" stories about the book he co-authored with Terry Toedtemeier. We had another big turnout filled with lovely folks and good energy. John gave a slide presentation and discussion of Wild Beauty, Photographs of the Columbia River Gorge, 1867-1957 that was even more than I'd hoped for. It provided a lexicon of historical facts and anecdotes surrounding the circumstances which allowed for the early documentation of this fantastic natural landscape. He also provided insight into the state of the times in that 90 year period and reminded us all just how much went into the act of travel that the brave folks who came out west in the second half of the nineteenth century endured, and what it took to brave the voyage across this awe inspiring and powerful landscape to their eventual destination west of the gorge.
In 2008 John co-authored Wild Beauty with his close friend Terry Toedtemeier, the late curator of photography at the Portland Art Museum. Wild Beauty, which John designed and produced, is the inaugural volume in the Northwest Photography Series, a collaborative partnership of Oregon State University Press and the nonprofit Northwest Photography Archive. The first printing of 5,000 books sold out in just four months, and Wild Beauty is now in its second printing. The book was partially funded by an American Masterpieces Initiative grant from the NEA and the Oregon Arts Commission; it won a Pacific Northwest Book Award, was a finalist for the Oregon Book Award in nonfiction, and was named by the Oregonian's book reviewer, Jeff Baker, as the best Northwest book of the year. Printed and produced entirely in Oregon—and one of the finest examples of bookmaking ever to come out of our state—Wild Beauty epitomizes John's dedication to quality.
John Laursen recently received the 2011 Stewart H. Holbrook Literary Legacy Award, presented annually to "a person or organization in recognition of significant contributions that have enriched Oregon's literary community." This award honors John for his career over the last forty years as a book designer, editor, writer, public-art typographer, and publisher.
As founder and proprietor of Press-22, John has produced countless books for Oregon small presses and nonprofit arts and environmental groups, including the Portland Art Museum, the Oregon Historical Society Press, Prescott Street Press, the Art Gym at Marylhurst University, the Xerces Society for Invertebrate Conservation, and Reed College, as well as for his own imprint. The Special Collections department at the University of Oregon's Knight Library maintains a complete collection of his works on paper. His typographic design for public-art projects can be seen at Hazel Hall Park in Northwest Portland, Portland State University's Walk of the Heroines, the Oregon Plaques at the Oregon Convention Center, the entryway to the Mount Tabor neighborhood, and, most notably, the graceful and moving Oregon Holocaust Memorial in Portland's Washington Park.
March 26th, 2011 - Randall Koch Lecture "Importance of Place", 7pm.
Thanks to everyone who came out and supported our first event at the end of March 2011! You made it a huge success, the barn was more packed than we expected but only a few troopers had to stand! Randall Koch brought some awe inspiring objects to decorate the main room and gave an enlightening and entertaining talk on his experience living as an artist surrounded by the natural world in his home on the coast of Oregon.
Kahnaway Art & Ecology Presents:
When: Saturday, March 26th at 7pm
What: Lecture/Discussion with Snacks and Beverages
Where: The Barn at Kahnaway: 37138 SE Gibson Rd, Washougal, WA 98671
"You can't separate the sense of place that is so essential for artists' communities from a commitment to the physical space. There is an increased consciousness of place at an artists' community, and that importance of place means that honoring the space is not really separate from the mission." -Randall Koch
Randall will discuss the importance of place and why it is integral to how we live and the choices we make. As we were creating Kahnaway and thinking about what we wanted to offer artists and the community, we kept coming back to where we are located and the ecological issues that we face. Our environment really does shape and inform how we learn, how we work, how we create, and how we choose to solve the problems we face daily. Please join us as we kick off our programming with a lecture and discussion about the connection between art and ecology and how we view "place" in our work and in our lives.
Randall Koch has been a life-long champion of artists, scientists and innovative thought. He is the former Executive Director of the Sitka Center in Otis, Oregon and the creative force behind the Neskowin Valley School. In many ways, Kahnaway has modeled its mission and programming from the SITKA Center, and we cannot imagine a more fitting guest lecturer and discussion as we open our doors and welcome the community to Kahnaway Art & Ecology.
To reserve your seat please reply with an RSVP to this email. A donation of $25 to offset costs and help Kahnaway provide community programming is greatly appreciated. Send to Kahnaway Art & Ecology: 37138 SE Gibson Road, Washougal, Washington 98671 or bring the night of the lecture.
Space is limited, thank you for your support!